Are you looking for fun and educational toddler activities?
I'm so excited to work with the non-profit Science Tots for this post! The kid and I love art and she's starting to identify parts of her body (eye, nose, ears, etc.) so I thought this project would be perfect to reinforce what she's learning. And maybe it would keep her fingers out of my eyes and nose for a little while. I have been on the hunt for some educational toddler activities, and this one was perfect!
Since she's just 19 months old, I was concerned she wouldn't stay still long enough for me to trace the the shape of her body on poster board (holy moly this kid never stops moving, she never sits down!) so I thought that it would be a good idea to trace around her teddy bear, just so she gets an idea of what we were trying to accomplish.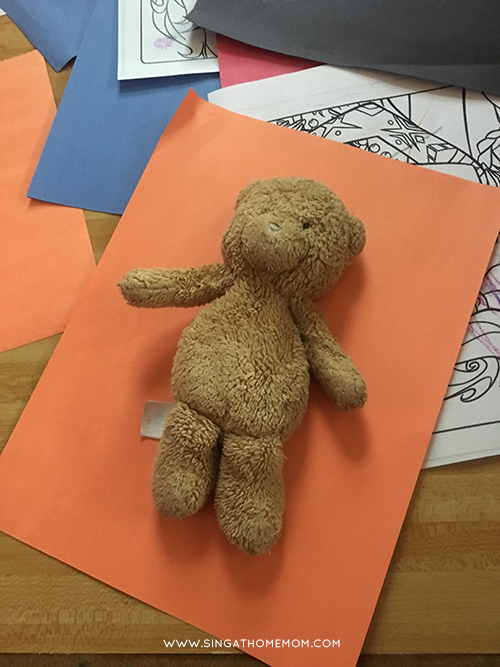 I traced Mr. Taydee Bear on some orange construction paper. (kiddo loves orange)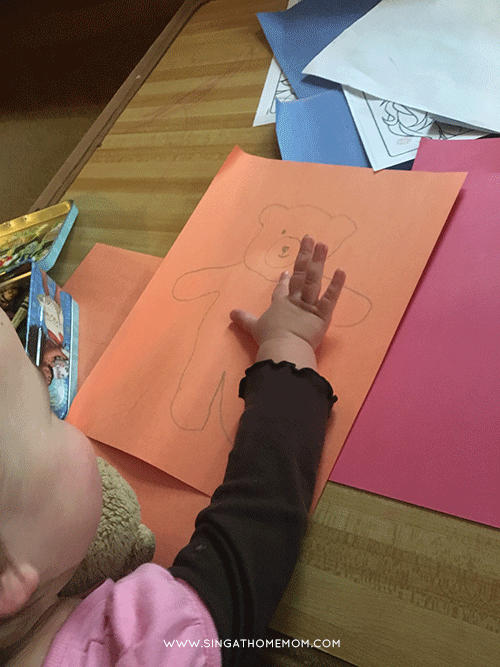 I drew in Taydee's facial features and asked her to point out his eyes, ears, mouth, and nose!
Next, I traced the dog. Little fella is 10 and has little patience for anything but he was a good sport. As to not annoy him too much I tried to work as quickly as possible.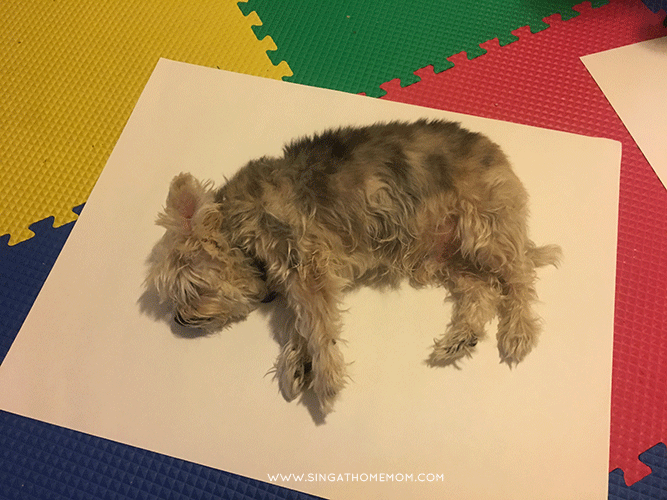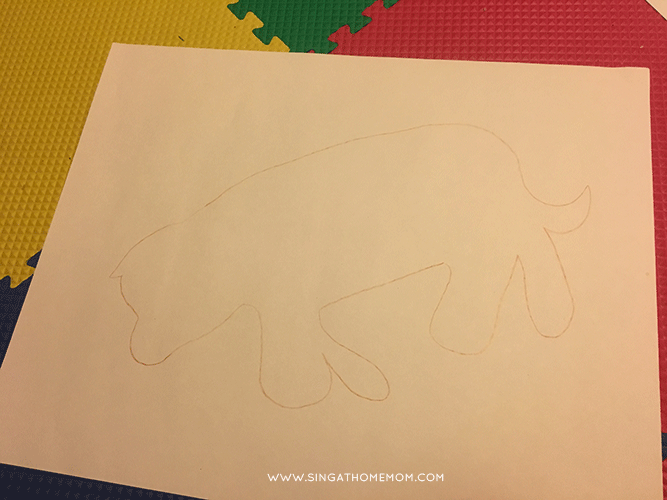 It's obvious that I could have done better, haha!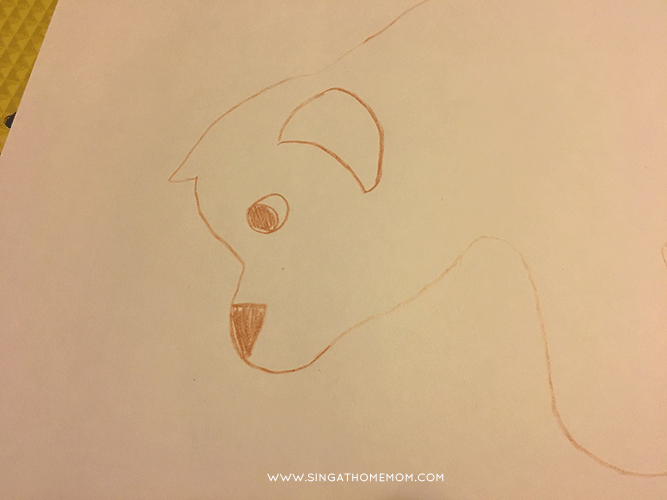 Quickly, I sketched in his face. Again, I could have done better. Good thing the dog doesn't really care.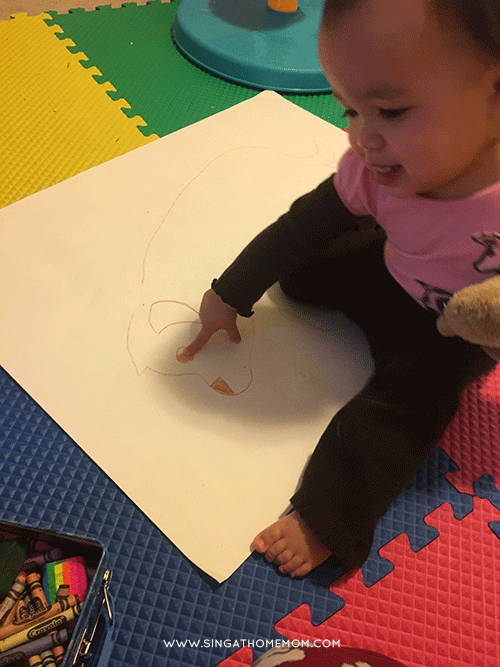 Next, I lay D down on the poster board and she miraculously stayed still long enough for me to trace around her! I drew in her facial features and as evidenced by this next picture, she judged my artwork harshly. Usually I'm a better artist than this but when dealing with an almost non-existent attention span you gotta toss technique out the window.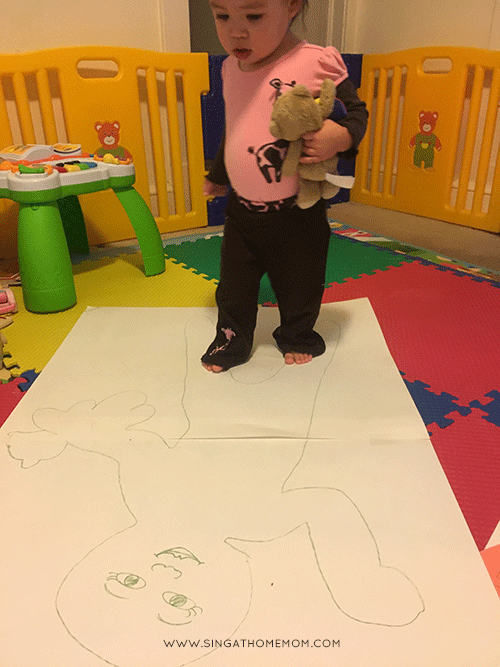 I added the ears and handed my daughter a crayon so she could draw her hair or across her face.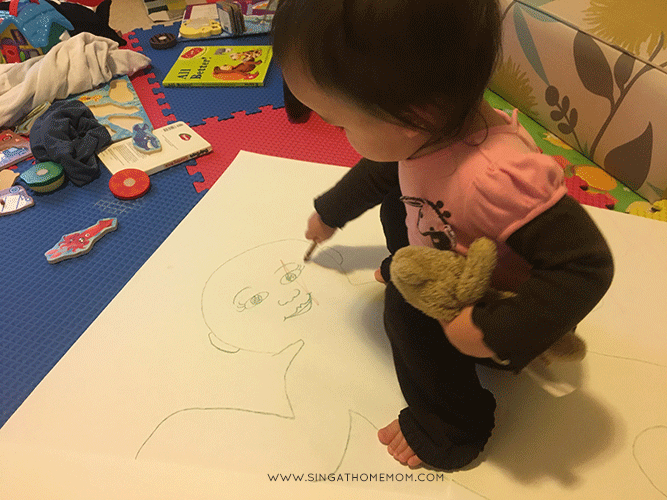 She chose to draw wounds on her eyeballs and remain bald.
I taped her art on the wall so she could admire it and color as she saw fit. Look at the wall. LOOK AT IT. (sigh)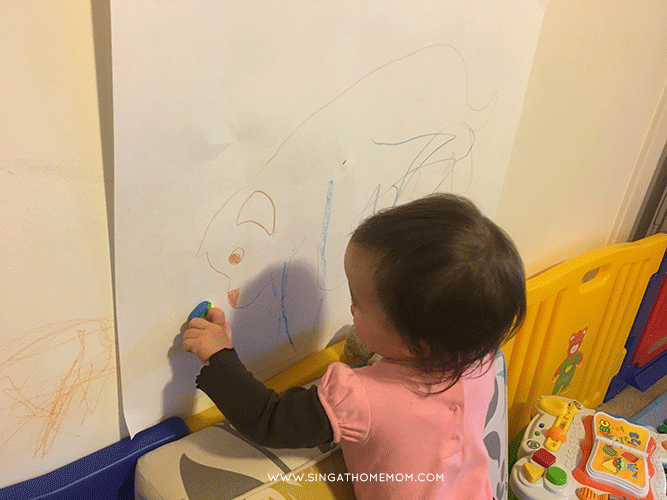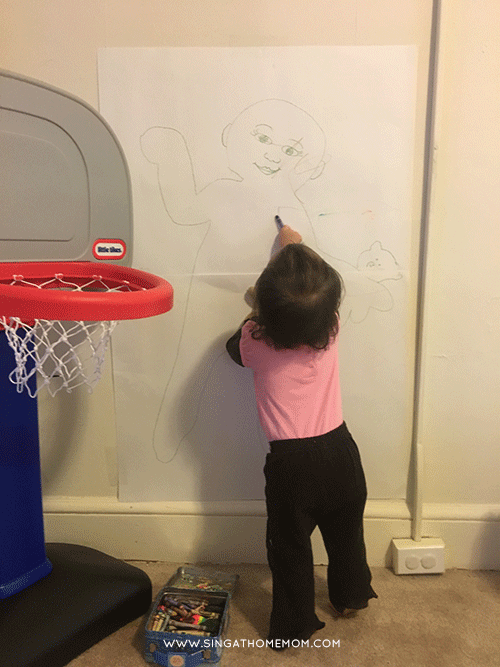 Since she was holding Taydee Bear, he made it onto her final poster as well!
This activity was a lot of fun and a bit challenging for both of us, mostly because of her short attention span. I would love to re-visit this project when she gets older. D knows the difference between her head and her hair, her chin and neck, hands, feet, bellybutton, eyes, nose, cheeks, mouth and ears. But she thinks her toes are "piggies" since that's what I call them, haha!
For more projects and toddler activities, visit ScienceTots' "Try This At Home" page!